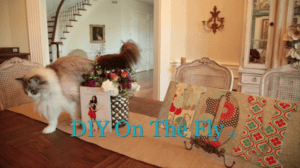 In honor of Mother's Day and Mother's everywhere I thought I would take a project out of the pages of my first book DIY on the FLY under $25 Monogram Home and create a fun word wall art gift using fabric and supplies that I found at Michael's Craft Store for my mom.  This project is so simple and it's a super fun project to make together with your kids! The best part about this DIY project is that it won't cost you a lot of money but it will certainly look like you bought it at a high end boutique. For me, there's nothing better than receiving a handmade gift. They handmade gifts my daughter has made me are the most memorable gifts that I will cherish forever!  You can watch my full video tutorial on my YouTube channel here: https://youtu.be/EdicMkuML9c
Here's how you make it!
Supplies: Mod Podge, Assorted Fabric, Wooden Letters (MOM), Bulletin Board, Piece of Wood or Galvanized Metal (in the size that you desire), Scissors, Pencil, Hot Glue Gun, 1″ sponge brush.
Step One: Lay your fabric right side face down and position your first letter on top of the fabric.
Step Two: Use your pencil to trace an outline of your letter onto your fabric. Use your scissors to follow your pencil tracing to cut the letter out of your fabric. Repeat this step for all three letters.
Step Three: Use your Mod Podge and 1″ sponge brush to apply a coating to your wooden letters. Next place your fabric right side up onto your letters and smooth out with your fingers to remove any air bubbles. Let dry.
Step Four: Lastly, take your hot glue gun and glue your completed fabric letters to your background.  It's that simple!
I hope your mom loves her gift. This truly is a gift that keeps on giving because each time your mom sees it in her home it will remind her of the day she received it and of the loving hands that created it.  If you like this craft project you can find more just like it in my first book in my series here: https://www.amazon.com/DIY-FLY-Under-Monogram-Home/dp/0692520597?ie=UTF8&*Version*=1&*entries*=0 If you enjoyed my video tutorial please subscribe to my YouTube channel and I would also love for you to follow me on my social media.
Thank you and Enjoy! xo