DIY on the FLY Spring Tablescape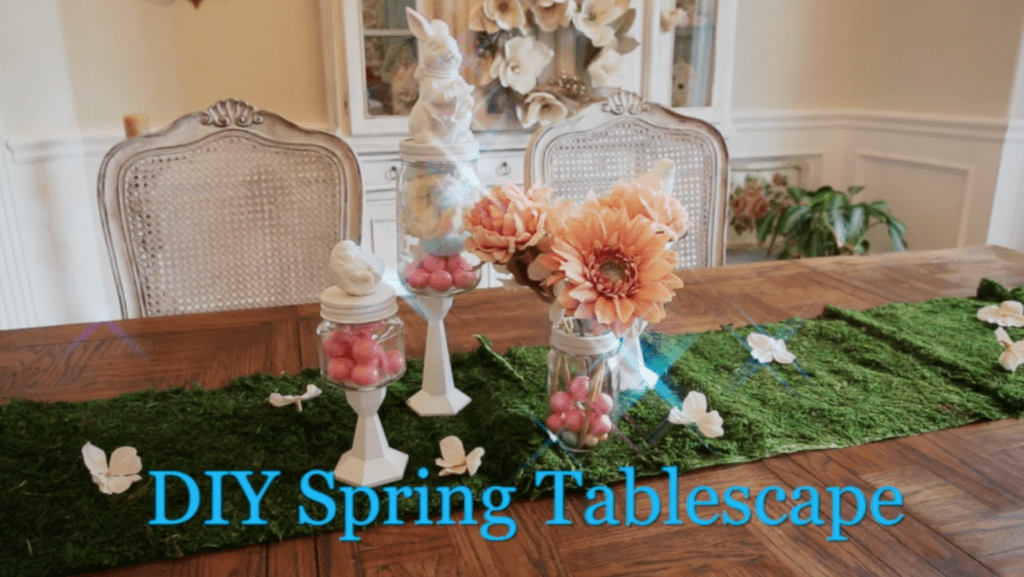 So, everyone knows that I can not cook but it's no secret I LOVE to build, craft, create and design a great tablescape.  With Easter just around the corner thought I would whip up something whimsical, festive and fun for my dining room table.  I made some adorable table decor using jars that I found at Michaels Craft Stores, some candle stick holders and quirky Easterish figurines that I found stuffed in a cabinet in my home. I really love the way they turned out! Hello…Adorable! They are so easy to make that you are not going to believe it! I have the full video tutorial on my YouTube channel here if you want to watch how I created my entire tablescape. https://youtu.be/HrDjrFIoOKw I have also posted the supply list and directions below if you want to bypass the video. Here's how you do it!
Supplies: Assorted glass jars with lids, candle stick holders in desired heights, ceramic, paper or plastic seasonal figurines, animals, knobs etc. to decorate your lids, Hot glue gun, Spray paint in desired color, assorted candy, nuts etc. to fill your jars with.
Step One: Spray paint the jar lids, your desired decoration toppers for your lids and your candle stick bases in your desired color(s) and let dry.
Step Two: Use your hot glue gun to glue your jars to the candle stick bases and the decoration toppers to the center of your lids.
Step Three: Fill your jars with your desired candy or nuts and display.
Step Four: Create a display using your jars on your table or give them as a unique homemade gift to someone special.
I would love to see your version of a Spring tablescape so feel free to email me your photographs and contact information to be considered for my blog and social media. I would love nothing more that than to brag about you and your creative talent! If you like my YouTube video please subscribe to my channel and I would love for you to follow me on social media.
Have fun and enjoy! xo